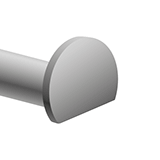 D-head paper tape framing nails are joined by a strip of paper and glued using the same technique as Joist Hanger Nails. Our paper tape is 100% waterproof and designed for outdoor use, which means that nails will remain in their position in any weather conditions. D-head paper tape nails are used in framing, terrace decking, fencing, etc. Gluing nails without gaps allows for more in one strip. This type of nail connection ensures even more convenient work with a nail gun. The nails come at a 34° angle and are compatible with most nail gun brands. If you happen to need Plastic Strip Framing Nails, you can easily find them on our product list.
| Ø | Length | Screw | Ring | Smooth |
| --- | --- | --- | --- | --- |
| 0.099" – 0.162" | 1-1/4" – 4" | – | + | + |
2500-18000 pcs

according to the nail dimensions
28/35/42/49/56 boxes

on a pallet
Nails can be packed in unlabeled carton boxes or carton boxes with our logo.
On request, individually selected logos, texts or other graphics may be printed on the packaging.
Other packaging options are available upon request.
FAQ
1. What are paper strip collated D-head nails?

Due to its D-shaped head, it is possible to glue nails without gaps which means more nails per strip. This type of nail ensures convenient work with a nail gun in tight situations.

2. How many nails are held in one strip?

The strip can hold from 20 to 40 nails.

3. Where D-head nails can be applied?

D-head nails are designed for outdoor as well as indoor use. Mostly this type of nail is used in framing, terrace decking, fencing, or other construction projects.

4. What are D-head nail shank types?

A smooth shank allows nails to enter the material more easily.

Ring shank nails have very high initial withdrawal resistance. Therefore, they are used in many wood framing and sheathing applications.

5. What are D-head nail point types?

Diamond point is the most common nail tip. It gives the best possible penetration into the material.

6. What are D-head nail finishing types?

Bright nails are not coated with a protective finish layer which means they are more vulnerable to outdoor conditions.

Electro-galvanized (white) nails have a 12μ layer of zinc which offers corrosion protection. They are generally used in areas where minimal corrosion protection is needed.

Electro-galvanized (yellow) nails offer the same corrosion protection as white galvanized nails the only difference is the color.

7. What is the price of paper collated D-head nails?

Raw material prices are always changing so it is difficult to set constant prices. To get a quotation of our updated product prices, please contact us via email or fill out the inquiry form on our product page.